ALL BAGELS ARE HAND ROLLED, KETTLE BOILED AND BAKED FRESH!
$1.69 EACH / $19.95 PER DOZEN (13)
• Plain • Sesame • Everything • Wheat • Multi Grain • Egg • Cinnamon Raisin • Blueberry • Egg Everything • Wheat Everything • Egg Onion • Onion • Rye • Pumpernickel • Poppy • Garlic • Salt • Sunflower• Buffalo• Jalapeño • Dorito• Asiago
ASK ABOUT OUR BAGEL & SPREAD OF THE WEEK!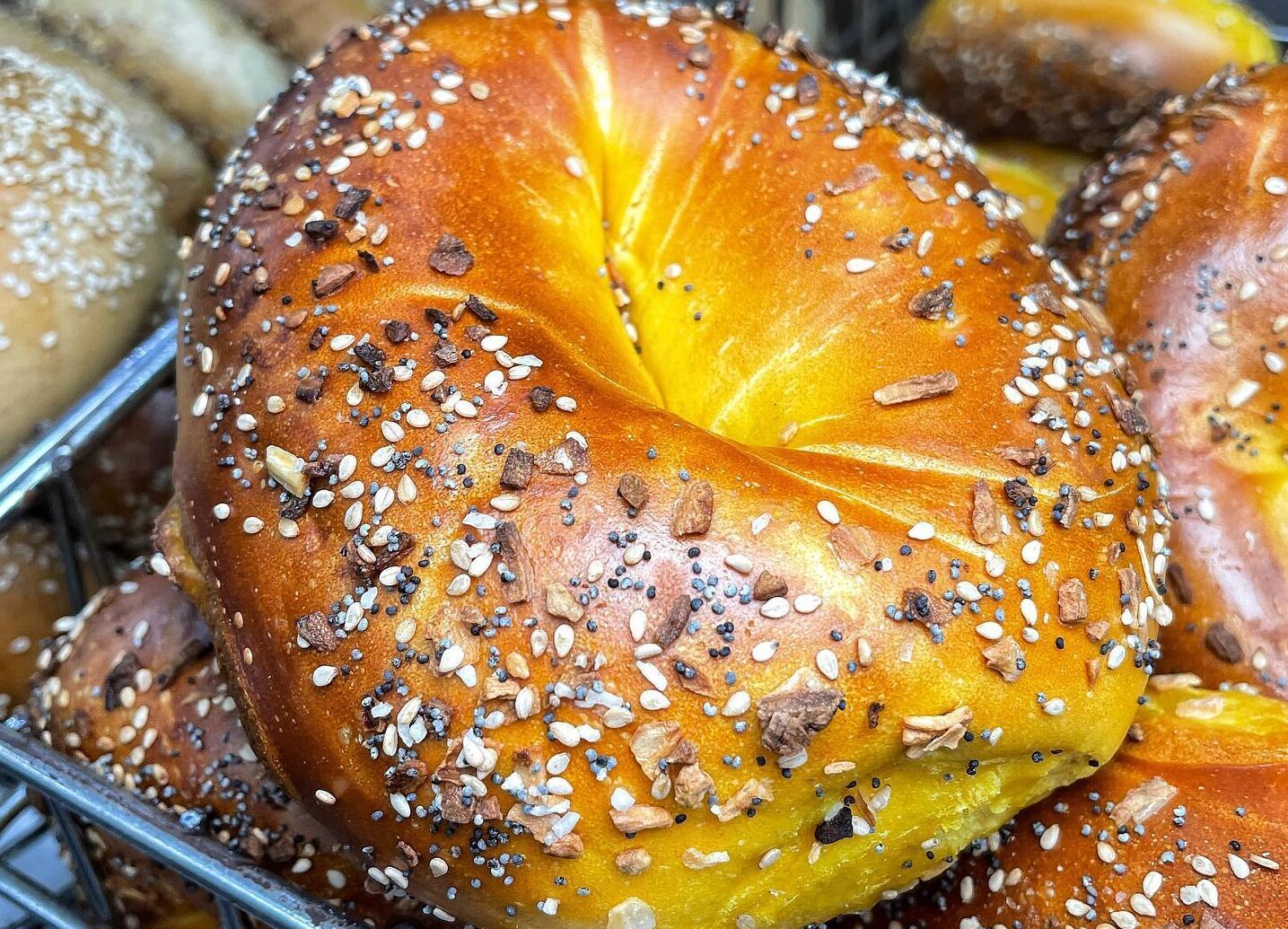 ALL CREAM CHEESE MADE WITH PHILADELPHIA CREAM CHEESE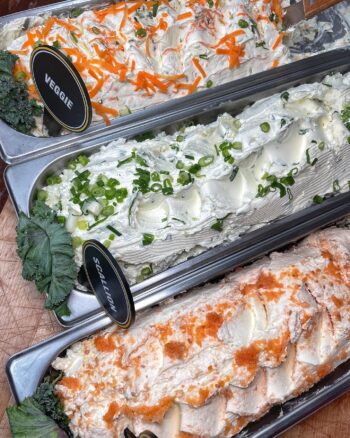 SPECIALTY CREAM CHEESE
• Veggie • Scallion
• Walnut Raisin • Olive
• Oreo • Bacon
• Jalapeño • Strawberry
• Lite
4.59
sliced lox
plain 10.49
w/ Butter 11.49
with Cream Cheese 12.49
with Flavored Cream Cheese 13.49
add the works
Tomatoes/Onions/Capers
Add 1.00
mini bagels
1.05 each / 11.95 per doz.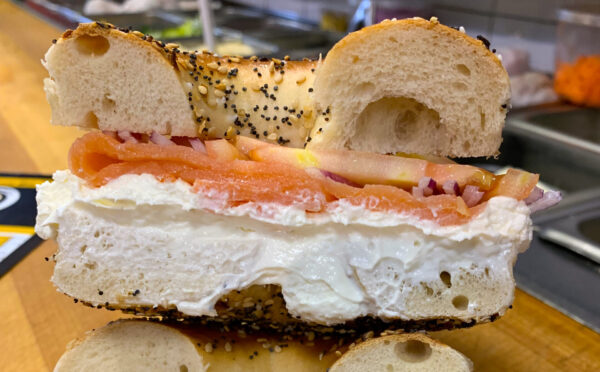 THE MANHATTAN
Sliced lox, Cream cheese, red onions and tomatoes on your choice of bagel
11.95 each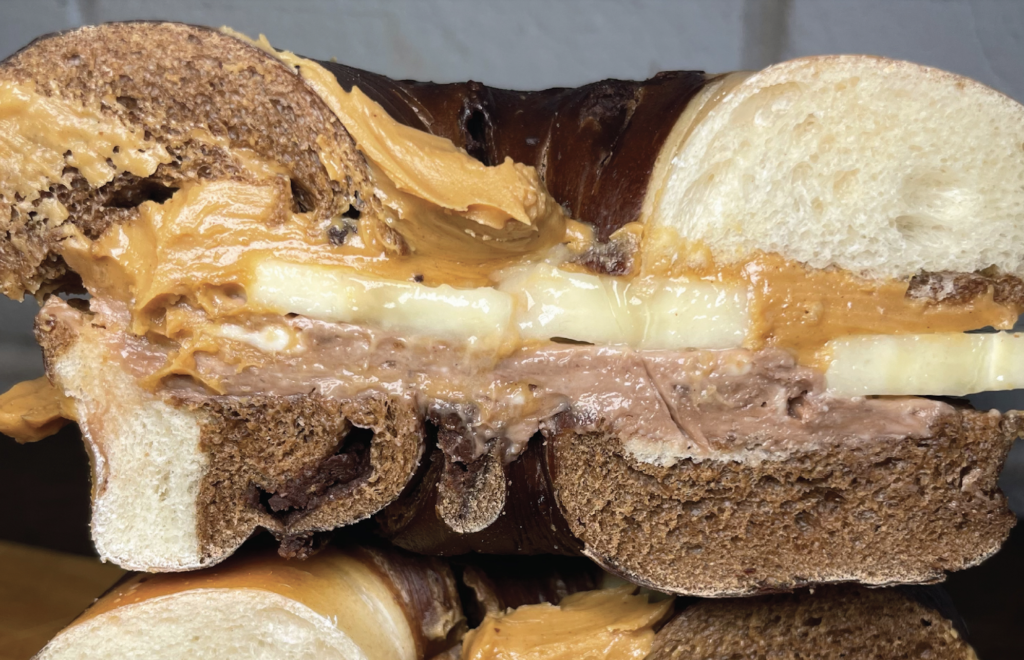 The morning Elvis
Chocolate Chip Twist Bagel, Nutella Cream Cheese, Peanut Butter & Banana
7.95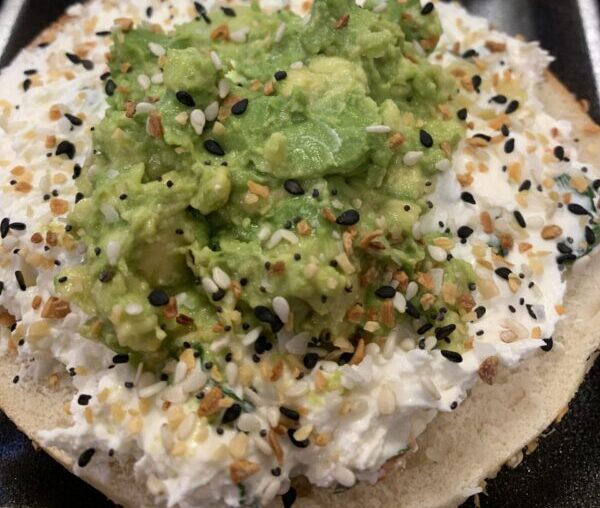 THE HIPSTER
Veggie Cream Cheese, smashed avocados, everything seeds on a toasted everything bagel
8.95 each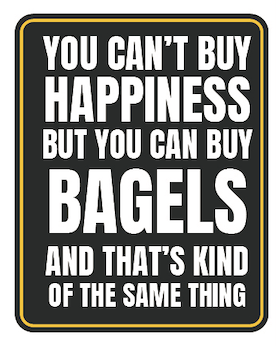 MUFFINS
• Corn • Blueberry • Chocolate Chip • Vanilla Chip • Pistachio • Blueberry Banana • Red Velvet • French Toast • Birthday Cake • Lemon Iced • Flavor of the Day
FRESH BAKED GOODS
• Croissants • Crumb Cakes • Pound Cakes • Brownies • Cookies • Apple Turnovers • Fresh Bake of The Day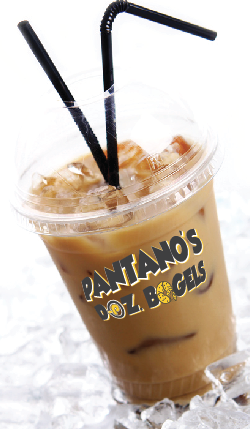 • Regular• Decaf• French Vanilla • Crumb Cake• Hazelnut
Hot………….Sm 12oz / Lg 20oz
Iced……….. Sm 20oz / Lg 32oz
ADD ON CHOICES:
• Bacon • TURKEY BACON• Roast Beef + $1.00 • PASTRAMI + $1.00 • Ham • Cheese • Turkey • Potato • Sausage
• Fresh AVocado…Add $1.25
• fresh egg whites…Add $1.49
• Grilled Chicken…Add $2.49
• Breaded Chicken…Add $2.49
2 Eggs Any Style on a roll/Bagel
3.99
with 1 of Choice ABOVE. . .+2.25
with 2 of Choices ABOVE. . . +3.25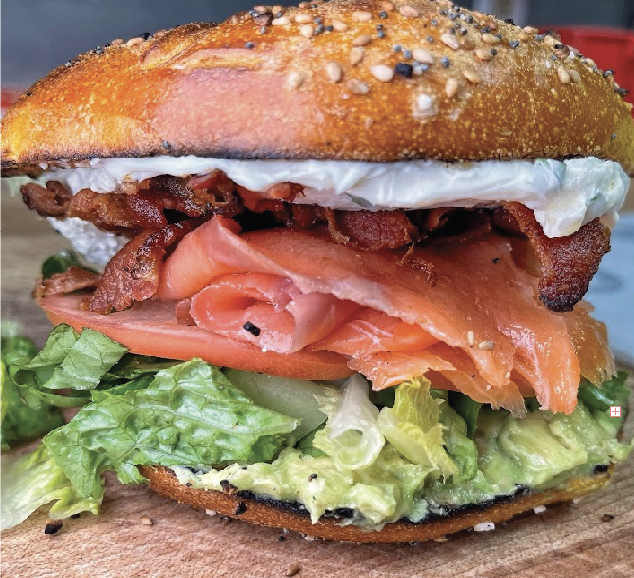 SURF-N-TURF BAGEL
Sliced Lox, Bacon Bits, Scallion Cream Cheese, Smashed Avocado, Romaine & Tomatoes On a Toasted Bagel
15.95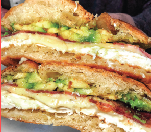 THE EYE OPENER
Egg whites, smashed avocado, turkey bacon, pepper jack cheese on a toasted croissant
10.95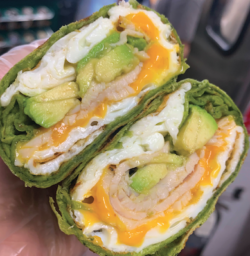 THE JOSE BURRITO
Fresh Egg whites, turkey, cheddar, smashed avocado in a spinach wrap
10.95
Buon giorno
Potato, Egg and Cheese
8.95
HAM-N-EGG Melt
Grilled Cheese stuffed with ham, scrambled eggs, and American cheese, with a side of hashbrowns
10.95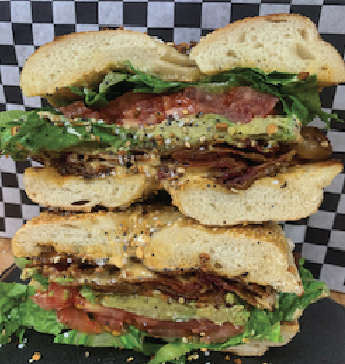 THE OMG BAGEL
Bacon, egg, pepper-jack cheese, and hash brown patty on a bacon egg bagel with Russian dressing
10.95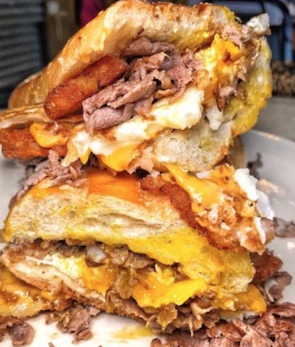 THE HANGOVER
Philly steak, eggs, cheese and hashbrowns on a bagel or roll
9.95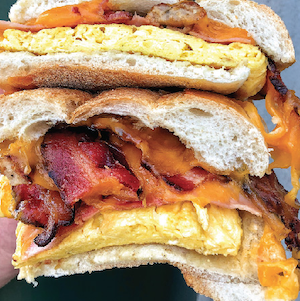 Big Boy
Bacon, Ham, Sausage, Eggs and Cheese on a bagel/roll
9.95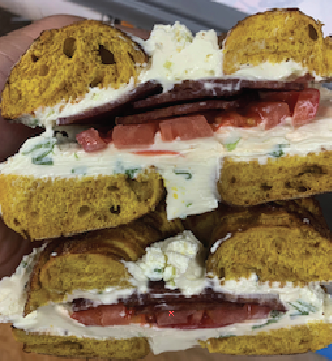 RISE AND SHINE
Toasted french toast bagel with scallion cream cheese, turkey bacon, and tomatoes
8.95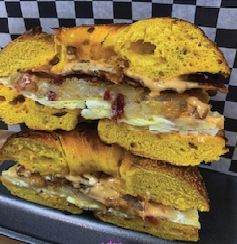 The Angry BLT
Crispy bacon, lettuce, tomatoes, avocados, chipotle aioli, everything seeds on a toasted bagel
9.95
PANCAKES, WAFFLES & FRENCH TOAST
buttermilk pancakes (3)
served with butter and syrup
7.95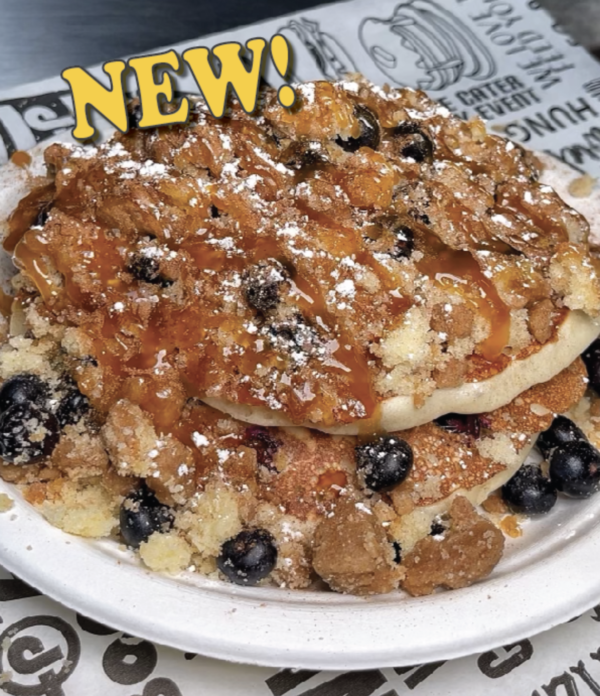 BluEBERRY CRUMB STACK
3 Buttermilk pancakes loade with blueberries, topped with crumb cake crumbles and drizzled with caramel
11.95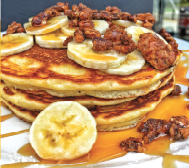 FAMOUS BANANA STACK
3 buttermilk pancakes stuffed with bananas and candied pecans topped with caramel drizzle
11.95
french toast
Challah bread w/ side cinnamon butter and syrup
7.95
Nelson's OREO TOAST
French toast stuffed with Oreo Cream Cheese, sliced bananas, and Oreo pieces
10.95
HEAVENLY FRENCH TOAST
Topped w/ warm strawberries and bananas and chocolate chips
9.95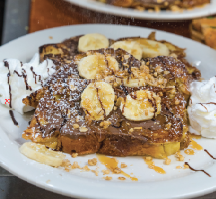 OH MY FRENCH TOAST
Nutella, Bananas, Crunchy Granola and caramel drizzle
10.95
Served with side HomeFries or Salad + Toast or Bagel. Egg Whites + 1.99
egg platter
Scrambled eggs w/ HomeFries
7.49
western platter
Omelet w/ ham, peppers, onions
9.95
greek platter
Omelet w/ tomatoes, onions, and feta
9.95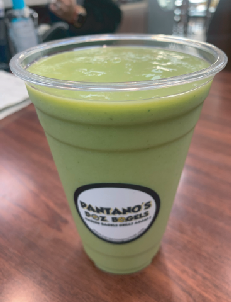 20oz- Made wITH yogurt, Almond Milk and crushed Ice
ADD $1.00 for WHEY PROTEIN
Mr. Green.....7.99
Bananas, mango, kale, and spinach
STRAWBERRY BANANA ME.....7.99
LOCO COCO.....7.99
Bananas, pineapple and coconut
PB & JOE.....8.99
Bananas, cacao nibs, and peanut butter
smooth operator.....9.95
Açaí , blueberries, bananas, strawberries, and Honey
Made Fresh Daily with Hellman's Mayo
MEditerranean TUNA.....10.49
FAMOUS CHICKEN SALAD.....10.49
buffalo CHICKEN SALAD.....9.95
CREAMY EGG SALAD.....8.95
WHITE FISH SALAD.....8.95
SLICED LOX
9.95/1/4 lb or 9.95/Sandwich
Served with a side of Pasta salad and choice of bagel or roll Add $1.00 for wrap or Hero

MAC DADDY WRAP
Chicken cutlet, bacon, cheddar, ranch w/ macaroni salad in the wrap
12.95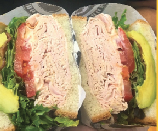 THE HARRY
Oven Turkey, crispy bacon, avocados, tomatoes and chipotle aioli and mixed greens
12.95

MIKE'S HONEY TURKEY
Honey Turkey, fresh avocado, candied pecans, shredded carrots, cucumbers and Hellman's mayo.
12.95

THE IRISHMAN WRAP
Fresh sliced roast beef, bacon potato salad, sour cream and onion chips, cheddar cheese, and Hellman's mayo
12.95

THE GUIDO
Chicken cutlet with melted American, crispy bacon, and creamy Russian dressing
11.95

CHICK-A-RITO BURRITO
Chipotle chicken salad, smashed doritos, lettuce, cheddar cheese on a toasted spinach burrito
12.95
CHICKEN CAESAR WRAP
Grilled chicken, romaine hearts, grated cheese and Caesar dressing
9.95
PHIL SPECIAL
Warm roast beef, melted mozzarella, lettuce, tomatoes Italian dressing
12.95
CHICKEN SALAD BLT
Chicken salad, crispy bacon, lettuce, tomato and mayo. On a bagel
11.95
Served on Bagel or Roll Includes side salad
BUFFALO CHICKEN MELT
Chicken Cutlet, Melted Mozzarella, Jalapeños, shredded lettuce and Wenzel buffalo sauce
11.95
ITALIAN CHICKEN MELT
Grilled chicken, roasted peppers, mozzarella, with a balsamic vinaigrette
11.95
PASTRAMI MELT
Warm pastrami, melted cheddar, coleslaw and Russian dressing
11.95
JENNY BAGEL
Chicken cutlet, American cheese, shredded lettuce, and mayo
10.95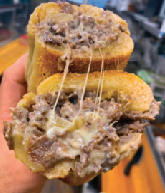 COLISEUM PHILLY HERO
Chicken -or- Beef with sautéed onions and mushrooms with melted American cheese
11.95
NEW YORK PHILLY HERO
Sliced steak with sautéed onions, mushrooms, provolone cheese, mayonnaise and ketchup
12.95
CALIFORNIA PHILLY HERO
Sliced steak, avocado, Swiss cheese, lettuce, tomato, and chipotle
12.95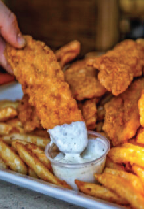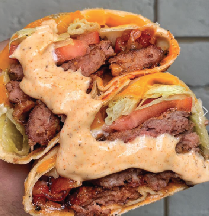 PERRI WRAP
Bacon Cheeseburger with lettuce, tomato, mayonnaise & ketchup; with a side of Regular Fries
13.95
THE BAGEL BURGER
Cheddar cheese burger on a Everything Bagel w/ Swiss sautéed onions and mushrooms and BBQ sauce; with a side of fries
13.95
SOPRANO BURGER
Melted Swiss burger, grilled ham, lettuce, tomato, with honey mustard and french fries
13.95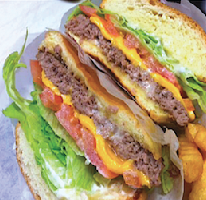 BIG AL
Cheeseburger with lettuce, and tomato; served with Regular Fries
10.95
OPEN 7 DAYS A WEEK
BREAKFAST LUNCH CATERING
Contact Us
Have a comment, or something you would like us to know? Give us a message and we will get back to you. We love to hear from our customers!
DOZ HOURS
MONDAY- FRIDAY: 5am-3pm
SATURDAYS & Sundays- 6am-3pm